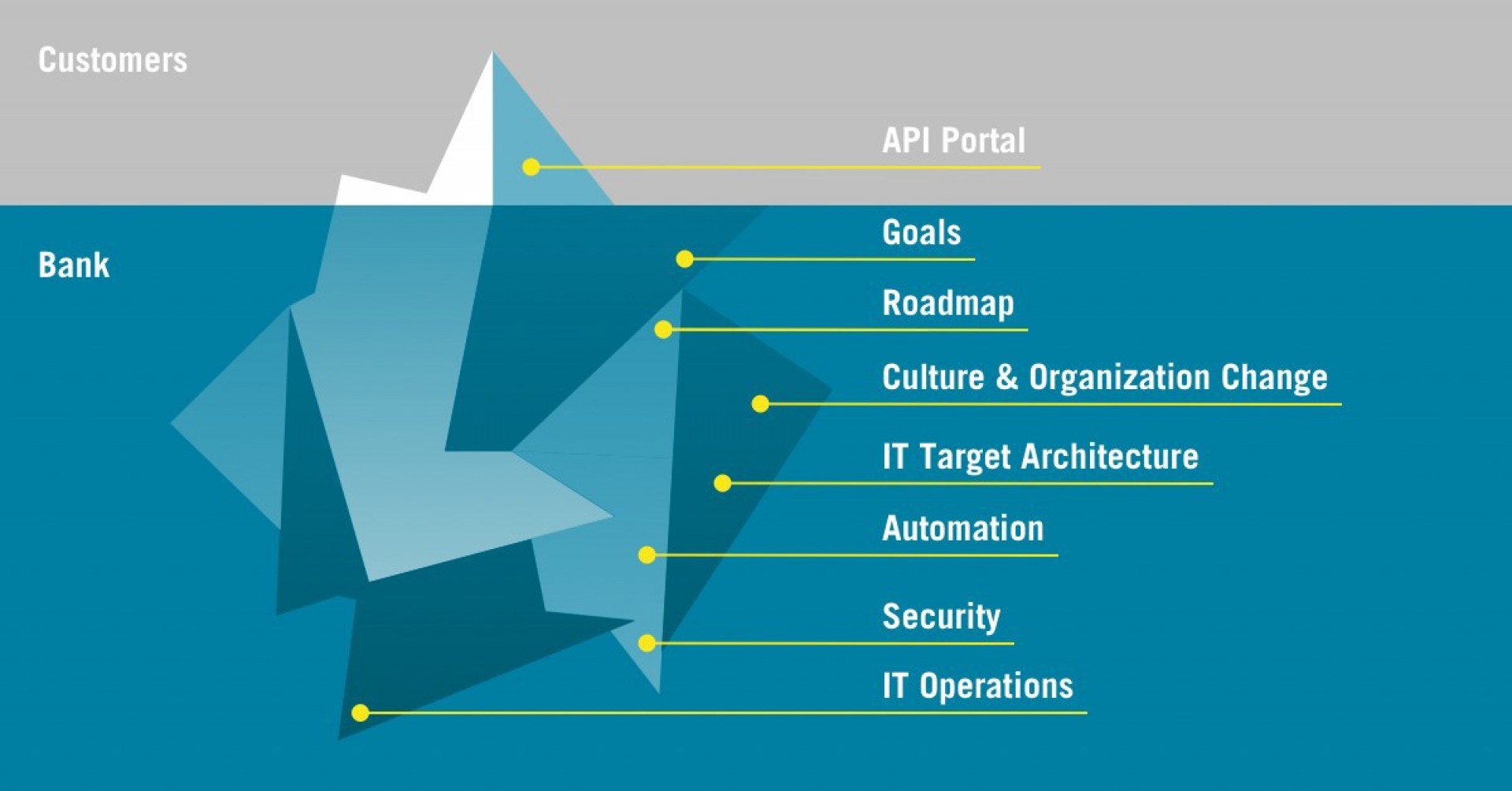 API Strategy – The iceberg below sea level
October 18, 2021. Open Banking is changing the traditional bank-client relationship by introducing a new inevitable party: Fintechs.
In the Financial industry, Open Banking and mainly the Payment Service Directives 2 (PSD2) in Europe paved the way a few years ago for banks to define their API Strategy. After all, APIs are the bridge to modernization.
What are APIs? To put it simple, an API is a software intermediary. This middleman allows to applications to communicate with each other. In finance, APIs are primarily deployed in functions where they transmit real-time stock quotes or perform transactions, making them an essential part of e-commerce growth.
APIs are also becoming increasingly important in the banking sector. The digitization journey of the traditional banking model has picked up speed in recent years. Modern banking is evolving more and more into a 24/7 and 360° experience for customers. This implies significant changes for banks, which require a strategy. This API strategy is comprehensive, letting customers see just the tip of the iceberg, while fundamental changes are needed in the background.
The API Strategy
Introducing such a strategy means a defined vision initiated from the top of an organization. A potential market advantage through a customer-centric value chain or even diversification with new business models is necessary to clarify its goals. Implementing the API strategy leads to a cultural change (e.g., Agile, DevOps), resulting in an organizational change. It revisits the technologies and architecture, IT landscape, and processes and fosters new technical skills.
Banking is Necessary
The COVID-19-pandemic has emphasized a dramatic need for digitalization to become a top priority on C-levels' agenda for their customers and their employees. The new normal is mobile, digital, enabling users via self-service. A famous quote from the mid-'90s is often attributed to Bill Gates: "Banking is necessary, banks are not.". Open Banking changed the playing field: Nowadays, we are investing with Robo-Advisors and executing payments through Fintechs, not banks directly. It is no secret that for the digital generations not knowing a world without the internet, the adoption of these services is high.
A World of Opportunities
However, these same FinTechs have partnered with Banks to offer such services. Those banks have seized the opportunity to innovate with an API ecosystem, including internal developers and Fintech partners. This innovation can generate growth for the bank in terms of customers and, therefore, revenues.
Our role in this? Knowledge Lab is a consulting, software development, and data science company for Financial Institutions. An interdisciplinary team with many years of experience develops solutions and its customers at the forefront of bank transformation and constantly researches new approaches and ideas in its laboratory. With our expertise, we can support you in every step of the way through the API Strategy: From defining the vision, goals, and roadmap, defining KPIs to evangelizing the API thinking and guiding cultural change within an organization.